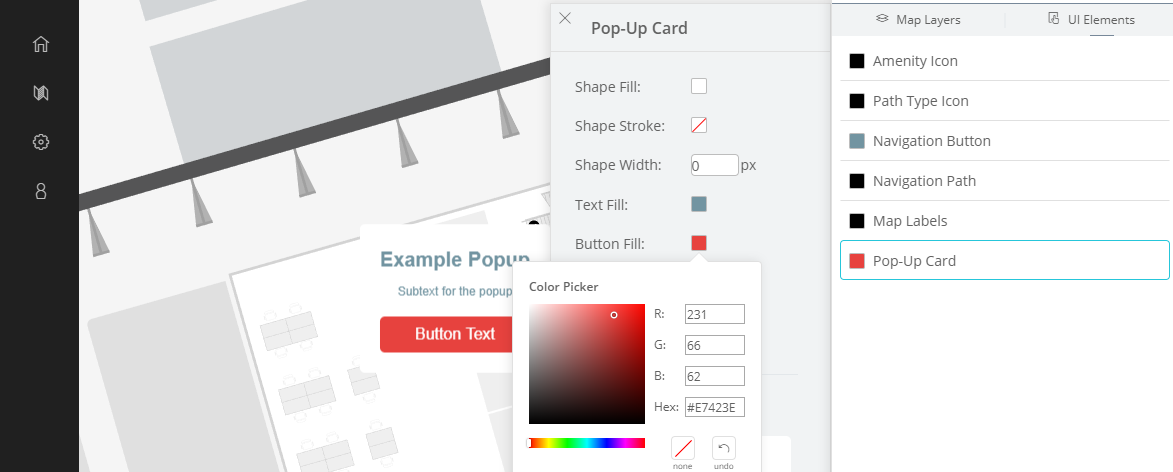 TORONTO, June 20, 2019 -- Jibestream, the premier indoor mapping platform provider, announced today the release of a robust new feature set designed to further simplify map styling, facilitate outdoor-indoor navigation, and empower users to more easily manage their maps. Already the market-leading global indoor mapping platform, this release cements Jibestream's position as the first choice for enterprise organizations looking to deploy location-aware solutions across a multitude of facilities.
This release includes enhancements to the GeoJSON import functionality, a new custom map styling tool for CMS users, an outdoor-indoor navigation kit for Google Maps, advanced Label Box editing capabilities, and more.
"With this release, we're providing our clients with more options to import maps into the Jibestream platform, and making it easier than ever before to style those maps without needing coding knowledge," said Jon Barnett, Vice President of Engineering at Jibestream. "These new features are built upon our commitment to make the indoor world digitally addressable."
One major addition to the Jibestream platform is the Map Styler. This new feature empowers users to create and deploy custom map styling enterprise-wide, without the need to write a single line of code. The Map Styler saves organizations development time and resources that were previously required to ensure maps aligned with corporate branding guidelines.
Continuing on Jibestream's 10-year legacy of map digitization innovation, this new release further empowers organizations to have even greater control of their maps and simplifies many crucial map management processes. While Jibestream users have previously had the ability to import GeoJSON map files into the Jibestream platform via API, they can now import GeoJSON map files directly into the Jibestream Content Management System (CMS) through a streamlined and intuitive file upload process.
Additionally, Label Boxes (LBoxes), which enable organizations to label and associate destination information with map units, have also received an upgrade with the new LBox Editor. The LBox Editor allows users to manually adjust the width, height, and orientation of LBoxes that are automatically generated within the Jibestream Map Manager.
As a market-leader in location-aware IoT solutions, Jibestream is also proud to announce the release of an Outdoor-Indoor Kit for Google Maps. This kit is integral for organizations looking to provide users with a seamless transition when navigating between Google's outdoor maps and Jibestream's indoor maps.
"Besides providing an exceptional user experience to a building's visitors and employees, outdoor-indoor navigation at scale will open the gates to a new myriad of location-aware IoT use cases and opportunities to improve business operations," says Jibestream CEO Chris Wiegand.
Building on Jibestream's continued commitment to supporting our ecosystem of integration, technology and distribution partners, new functionality allows Jibestream partners to white label the Jibestream platform.
The new features and enhancements are live and available in the latest versions of Jibestream's indoor mapping platform. More information on Jibestream is available at www.jibestream.com.