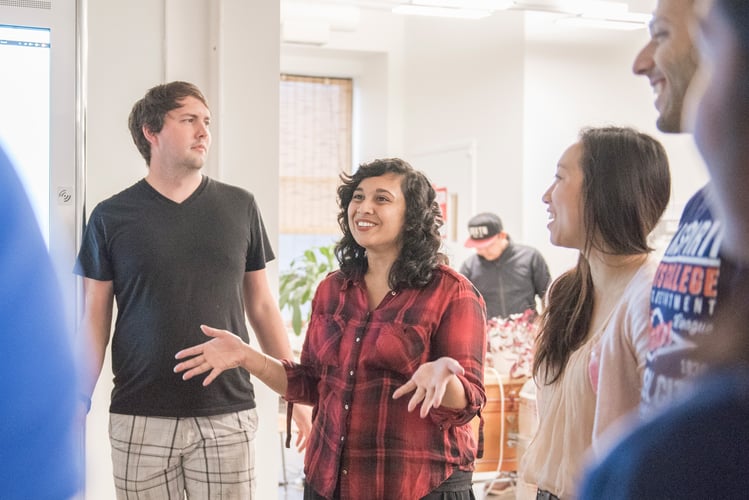 Agile is increasingly becoming the new norm across industries, but there's still a certain air of mystery associated with what it really is.
It's a topic rich with literature and it even has its own set of certifications. Once Agile is applied in an organization, it can be very rewarding for clients and employees alike. By the time you finish reading this, you will have an introduction to Agile and how it positively impacts collaboration between internal teams and communication between stakeholders. You can further build upon this knowledge by diving deeper into its mindsets and methodologies.*
The Bare-bone Basics: An Introduction to Agile
| | |
| --- | --- |
| Adaptive or incremental software practices began emerging as far back as the late 1950s, but it wasn't until 2001 when these practices and frameworks came together in the Agile Manifesto. Under the term Agile, there are many branches and practices, including: Kanban, Scrum, Extreme Programming (XP), Lean Software Development, etc. There's also the Agile mindset, which is the set of attitudes that when cultivated and fostered, enables a workplace to successfully adopt Agile and excel when using it. | |
Though there are many flavours of agile, the underlying ideas are the same. Agile promotes adaptive planning that's responsive to change and the early and continuous delivery of software the market demands.
Within each branch or practice, there are shared foundational terms, as well as specific terminologies that are unique to each one. On top of this, as Agile grows and evolves, organizations have minute variations in the way they implement certain roles and artifacts. Before diving deeper* into the topic, get to know some foundational terms in Scrum, which is the framework that Jibestream has adopted in our Agile journey.
Who's involved in a Scrum?
Product Owner

Holds the vision for the product and is responsible for delivering the best possible product.

Development Team

Are responsible for getting the work done and delivering a high quality product.

Scrum Master

The owner of the Scrum process, who helps the team perform at their highest level.
Events & Artifacts of a Scrum
Product Backlog

A prioritized list of all the items that the Product Owner wants to include in the product.

Sprint

A time boxed event that can last 1-4 weeks. During a sprint, the team will work to solve various user stories in the product backlog.
So, how does this look in practice? Here at Jibestream, it looks like this:
Our Product Owners work closely with our clients, sales team, and UX Designers to ensure their vision for the product reflects and exceeds market expectations.

In turn, our Development Team makes their visions a reality using our Product Backlogs which are carefully refined and prioritized by our Product Owners.

Our ScrumMasters are multi-talented folks and come from a diverse background. They are instrumental in keeping our Development teams in tip-top shape and ensuring that the end-deliverable meets our end-deliverables meet our clients' expectations.
How We Can All Benefit from Agile
The Agile framework is similar to implementing any new process-it's an evolution. When properly implemented, Agile is a crucial methodology and mindset that enables a company to produce incremental, iterative, and demonstrable software solutions the market demands. As Jibestream puts Agile into practice, a growing number of internal teams have seen its success and are evolving their practices to coincide with Agile philosophies. While there have been some ups and downs along the way, we've found success in using these practices and principles.
At Jibestream, we believe all partnerships should be a two-way union, whether it's with a technology partner, a client or internal teams. Agile is only successful when two groups can collaborate and respond swiftly and intelligently to market demands; when this happens, we all succeed.

---
*Resources: If you would like to learn more about Agile

To obtain a high level understanding of planning in an Agile environment, check out 12 principles of Agile. If you're in the software development realm, or would like to learn more about the principles specific to development, see Values of Extreme Programming.

Agile Manifesto - http://agilemanifesto.org/

Extreme Programming - http://www.extremeprogramming.org/

Scrum Guide - http://www.scrumguides.org/

Mountain Goat Software - https://www.mountaingoatsoftware.com/agile

Agile Pain Relief - https://agilepainrelief.com/agile-resources