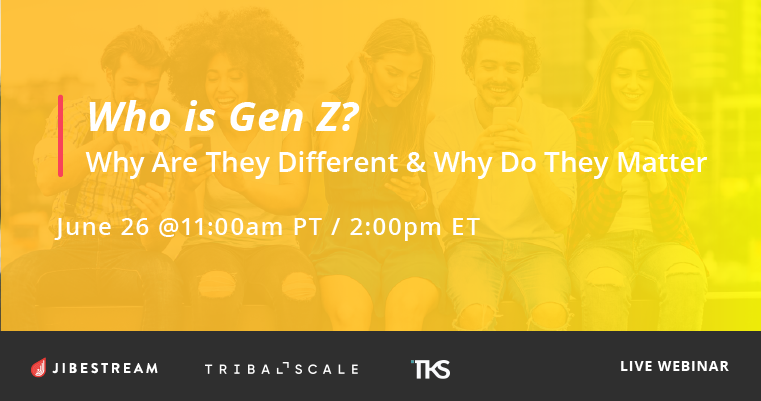 Generation Z, also known for being the first demographic cohort to come of age after the digital revolution, are quickly driving change in spending behaviors. As the first truly digital generation and with $143 billion in buying power, what does this mean for the future of retail, hospitality, and other experiential industries?
We've teamed up with global innovation agency TribalScale, to co-host a live webinar where we will explore the nuances of this generation and what their impact will be on organizations and their business decisions.
Hear from experts through multiple lenses. Jibestream's Chris Wiegand, and TribalScale's Sheetal Jaitly, will explore how enterprises can leverage technology to not only adapt, but thrive in a digital era. Isabella Grandic, a 15-year-old innovator at The Knowledge Society (TKS), will share her perspective as a Gen Z-er. Passionate about technology and its applications, Isabella presents a unique and insightful angle.
Ready to dive into what makes Gen Z unique and how companies can create and deliver experiences and services that resonate with this increasingly influential generation. Sign up today to save your seat!
Who is Gen Z? Why are they different and why do they matter?
Wednesday, June 26th at 11:00 am PT / 2:00 pm ET

During this webar, we will discuss:
Successful approaches to projects and strategies that will drive meaningful business impact
The implications of targeted truly digital consumers
How indoor mapping and location technology can be leveraged to bridge digital and physical worlds
How you can lay a technological foundation to support short and long-term innovation and growth
From defining how Gen Z is reshaping retail to understanding where we went wrong with millennial predictions and getting it right with this generation, this webinar will clear up the blurred lines between millennials and Gen Z with valuable insight into the business practices that will create long term impact with this influential new cohort.