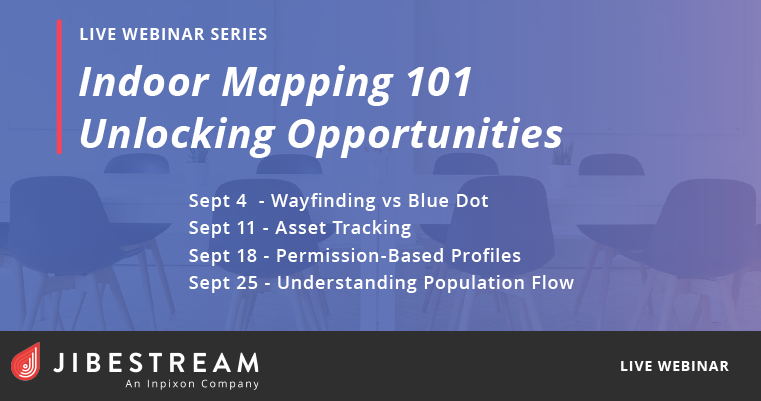 It's back to school season and class is in session! Throughout the month of September, we'll be hosting a webinar series taking you through the basics of indoor mapping and location intelligence use cases.
Over the course of these four 20-minute sessions, you will discover what you can accomplish with indoor mapping, and learn how indoor mapping can help you to unlock location intelligence for your buildings and start delivering exceptional experiences for your users. From wayfinding and asset tracking to Map Profiles and understanding population flow, the topics we're going to cover were selected to give you the best possible foundation to build high-impact solutions for your organization. Sign up today to reserve your spot in the course and get access to all of the sessions and recordings
Register today for access to all four webinars:


Wayfinding vs Blue Dot
What is the difference and which is a better fit for your needs?
Wednesday, September 4, 2019, 2:00-2:20 pm (ET)


Asset Tracking
The ins and outs of tracking assets in an indoor space
Wednesday, September 11, 2019, 2:00-2:20 pm (ET)



Permission-Based Profiles
Using Map Profiles to create customized experiences for internal and external users
Wednesday September 18, 2019, 2:00-2:20 pm (ET)



Understanding Population Flow
Turning location data into actionable insights
Sept 25, 2019, 2:00-2:20 pm (ET)



---
Meet the Presenters
Chris Wiegand
Chris is the driving force behind Jibestream. He started the company with a vision to change the way people engage with indoor spaces by fusing business data with maps. Chris has led Jibestream's incredible growth from an idea to a globally recognized leader in the indoor mapping world and is regularly quoted by major media.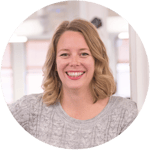 Trish Sissons
Trish is the Digital Marketing & Community Manager at Jibestream. With her background in technology, retail operations, and digital marketing, she researches many of the innovative applications of location-aware IoT across industries and how they impact guest and consumer experiences.