Albert Einstein once said that "in the middle of difficulty lies opportunity," meaning that our challenges are also the greatest opportunities for success. It's no secret that technology adoption has long been a challenge for many in the hospitality industry, and a large contributor to negative public perception. However, in spite of this legacy of innovation lag, a wave of digital transformation has begun to make its way across the industry in recent years as hoteliers seize upon the opportunity hiding within the difficulty.
It won't surprise many working in the industry to hear that many guest experiences with technology in hotels have erred on the side of disappointing for a long time. In 2015, Mariah Summers authored a piece for Buzzfeed News called The Hotel Industry's Race to Escape the Dinosaur Age.
"How many times have you entered your room at a large chain hotel, thrown your luggage down to relax, and noticed the antiquated stereo system with an iPod dock from three models ago perched on the bedside table? Next to it lies a paper room-service menu and a clunky, ancient telephone to use if you want to order up a late night snack. And this encounter comes after you've just spent the better part of half an hour waiting in line to show your identification, leave your credit card for incidentals, receive your room key, and navigate your way to a scene straight out of 1999."
It's hard to modernize in an industry dated back to the fifteenth century - there's a lot of legacy to overcome. Many of the issues the industry is facing today are a kind of hangover form previous technology adoption attempts. For example, when purchasing televisions for hundreds or thousands of hotel rooms, it is understandably very difficult to justify the costs associated with updating to newer models within a few years. As a result, the televisions in most hotels today are typically archaic when compared to the ones guests have at their own homes, and lack the streaming capabilities guests have come to use primarily for their entertainment platforms.
Similarly, while the new norm for food delivery in most of the world is to order through an app and track the asset moving toward you, hotel guests are expected to call in their orders using a landline phone. It's worth it to point out that the idea of speaking to a human to order food for delivery is borderline traumatizing to the younger generations that the industry is trying to engage with.
One has to wonder, if someone were pitching the idea of hotels in their current state as a business idea, would anyone buy into it in its current model? The hospitality industry has been able to coast on the status quo for many years as everyone faced the same barriers to innovation, but now all hoteliers are facing competition from the burgeoning market of short term vacation rentals.
Innovation on the Horizon
The general public has been very critical of the industry's slow rate of technology adoption to date, but those with their fingers on the pulse will have felt the wind of change in the air. In recent years, we've seen several enterprise organizations shift gears towards focusing on the digitization of the guest experience whilst conversation around the Internet of Things (IoT) and information architectures has become significantly more common at major industry events like HITEC. With all of this positive energy and opportunity It's important to remember that in order for digital transformation to be effective and sustainable, it must encompass the whole organization - it must be a company-wide culture change, not just a marketing gimmick.
The key to a successful digital transformation lies in building the right foundation. One of the topics we heard come up the most at HITEC 2019 was the discussion around the importance of open API policies. The importance of working with agnostic vendors that are committed to interoperability cannot be overstated. The implications of interoperability are felt profoundly throughout the entire organization, not just guest-facing interfaces. Open architectures are important to everything from back-of-house human resources and finance processes to booking systems and front-of-house guest-facing apps.
Embracing the Internet of Things
For organizations that are beginning their IoT journey, it can be helpful to know why open information architecture matters so much. The Internet of Things is, in essence, the connection of devices and systems, so it is paramount that those connections are vast and robust. As you move along your digital transformation journey, you will find that no one vendor is able to deliver all of the use cases your organization is hoping to implement.
This means that you'll need to build a technology stack of vendors that can work together to help you achieve your goals. From your bookings systems and payment processors to your indoor maps and navigation system, all of these disparate technologies must be able to connect and communicate in order for you to create a smooth, functioning system.
By working with vendors with open architectures, you're also empowering your organization to go through the modernization process in a scalable way. Digital transformation needs to be sustainable, and the opportunities for growth at any level provided by platform solutions will benefit you in the long term over point solutions that only address a few pain points and don't play nicely with others. Also, ensuring that your systems are interoperable and designed to support your growth is immensely helpful in avoiding the issues around obsolescence that have previously plagued the industry.
Focusing on Digital-First Guest Experiences
It's very likely that your guests booked their stay on a mobile device, but when they arrive at your property, they have to stand in line to check in and provide details that can be easily provided through a secure mobile app.
By providing guests with a digital-first experience, organizations are able to streamline guest and staff journeys, and by leveraging the mobile devices guests already own, manufactured obsolescence is less of a concern. Some of the exciting use cases we've seen gaining traction include features to allow guests to choose or upgrade their rooms upon check-in, order food to their room, track their families throughout the property using real-time asset tracking, targeted location-based messaging, and personalized outdoor-indoor navigation and map visibility within apps.
Innovative hospitality enterprises, from resorts to cruise ships, have already begun to deploy in-room tablets and self-service kiosks to transition guests experiences to the digital age. With the added dimension of location-awareness, guests can look forward to experiences that are more aligned with the way they already use technology in their daily life for navigation and asset tracking, making their stays with you memorable for all the right reasons. The organizations that look beyond their challenges and embrace the opportunities presented by digital transformation will not only thrive in this competitive landscape, but will also be the ones to lead the hospitality industry into the modern age.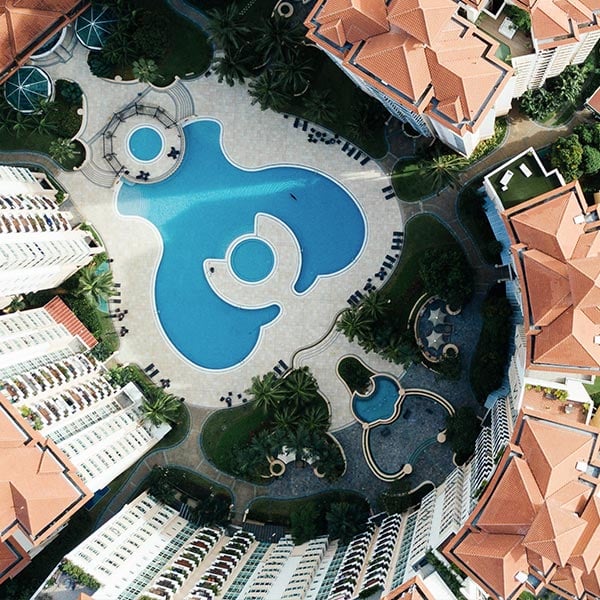 Jibestream for Hospitality
Learn why indoor mapping and location technologies are key to creating exceptional guest experiences